About Eleveo
We are technological company providing software for contact and clients centers.
Eleveo is a Market Leader in Contact and Client Centers Software.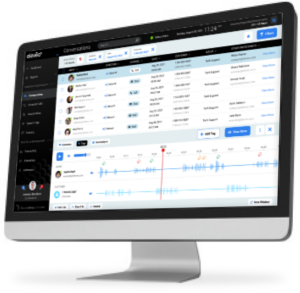 Eleveo's software helps contact centers improve the customer and agent experience by capturing, analyzing, and improving the quality of all their call, email, and chat interactions. Eleveo's customers range in size and include some of the world's largest companies. Eleveo's product suite captures multiple types of media with a centralized platform for quality management, advanced analytics, workforce management, E-learning, and more.
Eleveo Product Overview
Eleveo offers a large portfolio with several major solutions:
Call and Screen Recording – our core, a Linux-based, multi-channel conversations recording solution for contact centers and unified communications environments.
Quality Management – advanced quality control system that helps managers oversee their operations, review the quality and efficiency of agents' work, and also enhance the customer experience – all while reducing costs.
Workforce Management – an advanced system that can predict and then schedule the correctly trained people to work optimized schedules. Using AI developed in-house the system can generate forecasts, create new schedules, assign them to people, and then manage change requests to account for unpredictable circumstances.
We are hiring top talent for our Research & Development teams in Prague and Košice!